A PRODUCT THAT CAN BE MOLDED TO YOUR NEEDS
CityOmnis® is a technology platform that, through the collection, integration, and processing of data from different sources, enables the monitoring, analysis, and management of the development cycle of the urban and territorial context in all its main aspects.
CityOmnis® is a modular, scalable and interoperable platform that allows the integration of different modules geared to different management problems. In particular, it adopts a structured back end module for customization and autonomous content management, and a front end for the exposure and enjoyment of data streams and analysis. The data managed in CityOmnis® cover the technical, administrative and management aspects of the objects that make up the city and its territory.
CityOmnis® in its basic version is structured into a map section and a data and tools section, which can be represented independently but are closely connected in that the data managed is unique, but represented in two complementary modes.
The basic version
CityOmnis® in its basic version is structured into a geographic map section and a data and tools section, which can be represented independently but are intimately connected in that the managed data is unique but represented in two complementary modes.
The MAP section
The map section enables the use of geographic information via major web-GIS tools. Georeferenced information layers are configurable and manageable through the catalog. All information layers have detail tabs for publishing the data and objects represented.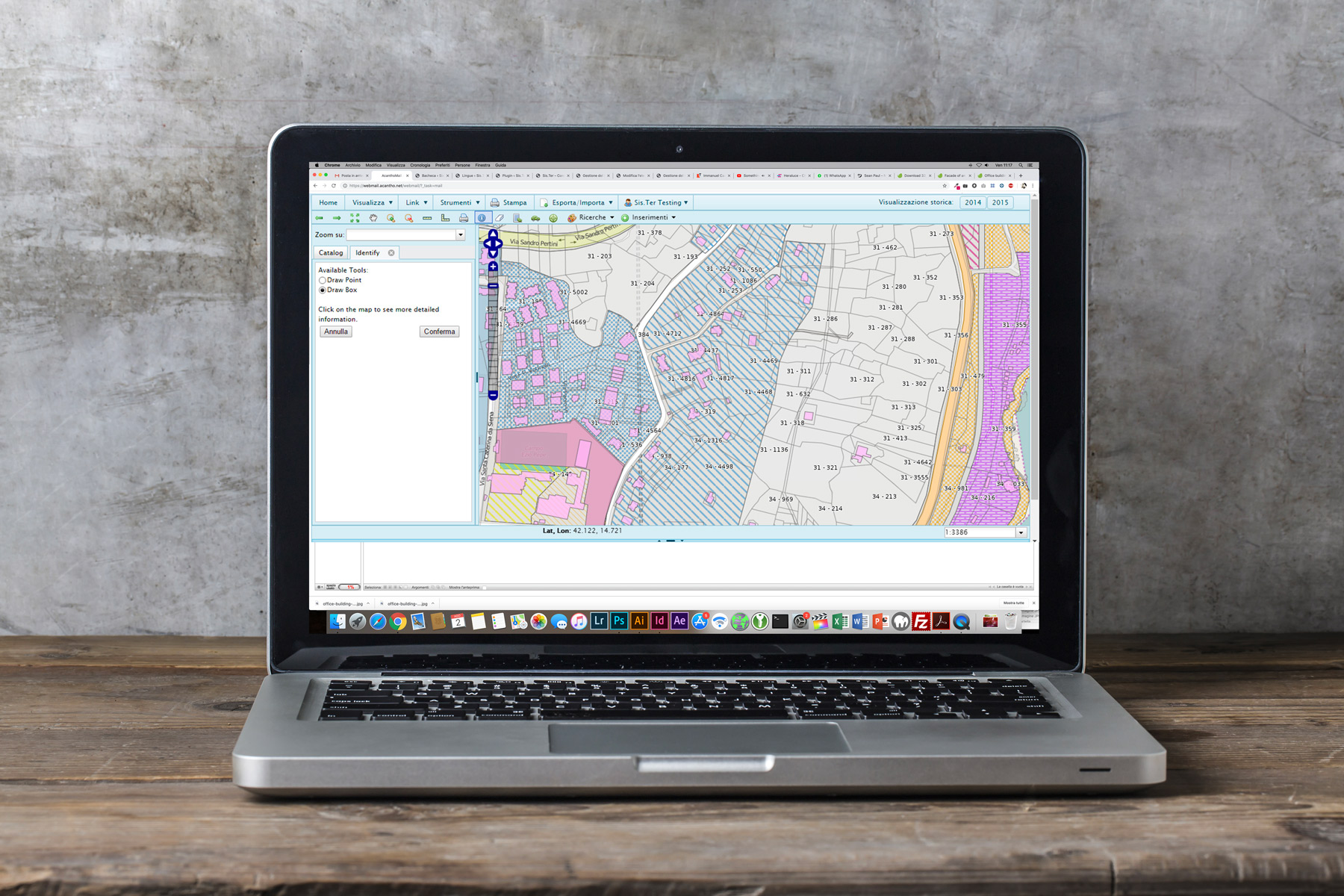 The DATA section
The data section provides search, filtering, graphical summarization, export and reporting tools to enable analysis to be conducted from the available data. CityOmnis® allows all objects selected through searches to be identified on the map and enables the application of specialized analysis depending on the focus of the service.
CityOmnis® enables the management and uploading of:
data in shapefile (.SHP) format and through the use of geographic DBs (Postgresql + PostGIS)

raster in major formats (TIFF, JPG) and Web Map Service (WMS).
CityOmnis® in its basic version allows you to view information layers starting from:
Interfacing with external, real-time data sources requires the construction of dedicated connectors as specified by the customer and sensor suppliers and in relation to the DBs to be queried.
A SCALABLE SYSTEM
CityOmnis® offers remarkable scalability and interoperability; in fact, it can integrate several modules created as vertical asset management services in specific application domains.
Public lighting (supports, fixtures, lamps, switchboards, etc.).
Land interventions (planning, management, optimization, actualization, etc.).
Public greenery (lawns, trees, playgrounds, watering points, etc.).
Agriculture and land (irrigation optimization, agronomy, land protection, etc.).
Urban plans (homogeneous zones, regulations, constraints, HRCs, etc.).
Cadastral, geographic and alphanumeric data (DOCFA, OMI values, etc.).
Buildings (location, classification, operation, maintenance, etc.).
Supermarkets, hypermarkets, shopping malls (GDO, chains, groups, etc.).
Technology networks (water, electricity, gas, telecommunications, etc.).
MAXIMUM USABILITY
Service delivery via API, available from the basic version, can be used both "internally" within CityOmnis® itself to manage the front end declined in various dashboards, both "externally" to feed, for example, the mobile services and APPs that can rely on it (Dashboard, mobile APP and connectors are not included in the basic version). The front end of CityOmnis® allows you to manage the template and published information based on your specific needs.