A SOLUTION FOR CIRCULAR ECONOMY
Circular Economy (CE) is a model of sustainable development that tightly connects economic, social, and environmental aspects, and promotes a responsible value chain along the entire life cycle of a product/service with a careful management of resources and reduction of negative externalities.
ChECK it!TM identifies the critical issues of a specific utility, so can support governance choices. The circularity score per municipality is based on the results of a quanti-qualitative analysis of the single utility performances:
Technological Networks

Public lighting

Electrical network

Natural gas

Water Network

Transport Sector

Waste Collection

Schools

...
FROM QUESTIONS TO THE INDICATOR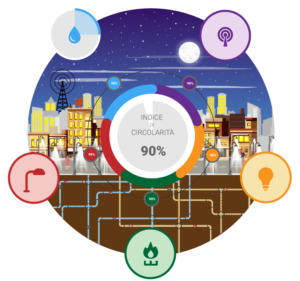 The score is based on the results of both physical parameters and qualitative analysis of the single utility performances.
The results are shown through an interactive dashboard that allows the user (public administration or service provider) to obtain a circularity score per municipality per utility from a management and social-environmental point of view, and eventually a global score
RECYCLING

From a Circular Economy perspective, linear processes are transformed into circular processes: biological materials can be reintegrated into the biosphere

CIRCULAR ECONOMY AND SUSTAINABILITY

Circular economy is deeply connected to the notion of sustainability. Sustainability concerns and affects three dimensions that form the 3P model: people, planet, and profit.

UNITED NATIONS OBJECTIVES

In 2015 the United Nations General Assembly has identified the 17 Sustainable Development Goals (SDGs), also in related to the three dimensions of sustainability. Each SDG is detailed with specific targets, that in total sum up to 169 targets.